The County of Haliburton has a Forest Conservation Bylaw Officer who is available to speak to groups and the public about forestry, the County's bylaws, and invasive species and weeds.
Below, you will find information on three of the more common invasive species found in Haliburton County.
Garlic Mustard
Garlic mustard is an invasive herb native to Europe. Since its arrival in North America it has escaped into the wild and is now one of Ontario's most aggressive forest invaders. The Garlic Mustard plant has a distinctive onion-like or garlic-like odour and flowers from May to June.
Stems & Roots
Stems up to 1m (40 in.) tall, simple or little branched, smooth or with a few simple hairs.
Leaves
Leaves differ from year 1 to year 2. Year 1: the leaves in rosette form (circular cluster of leaves growing from the base of the stem) 3-4 leaves per rosette, dark green and kidney shaped with scalloped margins and deep veins which make them look wrinkly. First year leaves emit a strong garlic smell when crushed. The 2nd year leaves grow alternately along the stem of the plant. They are more triangular in shape and have coarse teeth. Lower stem leaves are larger growing up to 10 cm (4 in.) wide and kidney-shaped. Upper leaves are more triangular and smaller growing from 5 – 10 cm wide and narrowing at the tip.
Flowers
Flowers only occur in the 2nd year plants, and are small and white with 4 petals (3-6 mm long and wide. Seedpods (called siliques)may be in the axils of small leaves; 2.5-6cm long, spreading, and borne on short pedicels about as thick as the pods; their beaks slender, 1-3mm (1/25-1/8 in.) long; seeds black, 3mm (1/8 in.).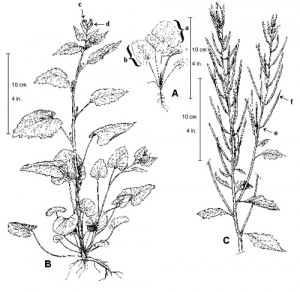 Learn more
Below are links to more information about the Garlic Mustard plant:
Dog Strangling Vine
Dog-strangling vine is an invasive perennial herbaceous plant in the milkweed family (Asclepiadaceae). It is spreading rapidly and causing damage to ecosystems in certain areas throughout Ontario.
Stems & Roots
Stems are vine-like, with fine hairs and are herbaceous or have a woody base that can twine or climb on available structures within its reach. Stems will also twine around themselves forming dense mats of vegetation. Plant overwinters successfully in Ontario, and grow 1-2m (3-6.5 ft) long.
Leaves
Opposite (2 per node), smooth green with entire to wavy margins, oval to oblong with rounded bases and abruptly pointed tips. Leaves can range in size from 7-12 cm (3-5in) long and 5-7 cm (2-3in) wide. Leaves are rounder and smaller near the base of the plant, largest at the mid-section and smaller and narrower towards the top
Flowers & Fruit
Small flowers purple-brown or dark purple to pinkish in colour, in small umbel-like clusters (5-20 flowers per cluster) at tips of stems and upper branches; seedpods slender, 4-6cm (1.5-2.25 in) long, broadest near the base and long-tapered to a slender tip, opening along one side and releasing many, small, flat, brownish seeds with long, white, feathery tufts of hair (called coma). All parts of the plants may contain small quantities of white, milky juice. Flowers from late June until autumn.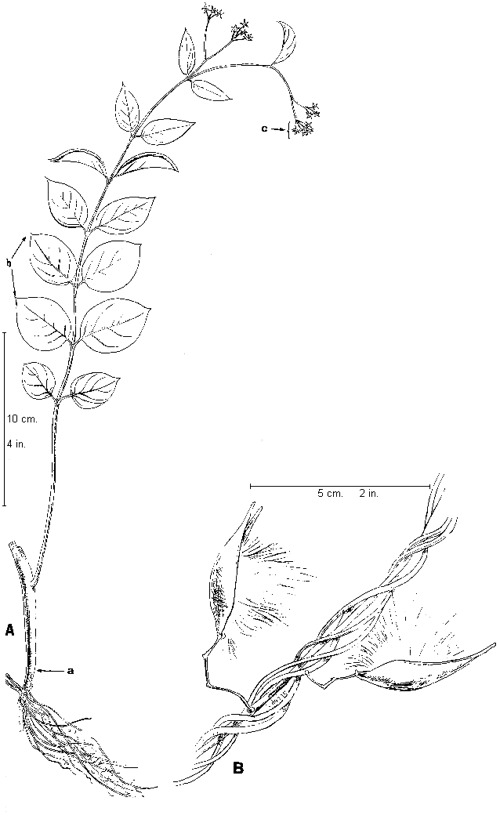 Learn more
Below are links to more information about Dog Strangling Vine:
Giant Hogweed
Giant Hogweed (Heracleum mantegazzianum) is a perennial plant and a member of the carrot family. It is a garden ornamental from southwest Asia that is naturalizing in North America and becoming more common in southern and central Ontario. Giant hogweed has the potential to spread readily and grows along roadsides, ditches and streams. It invades old fields and native habitats such as open woodlands.
Stems & Roots
Typically 10-15cm (4-6in) in diameter with coarse hairs, flowering stems up to 5m (16ft) high, hollow except at the nodes; both stems and petioles having conspicuous reddish-purple flecks throughout and sometimes completely purple near the base; lower stem often very rough with sharp-pointed, irregularly-spaced bumps.
Leaves
Leaf blades of rosette leaves very large, up to 1m (40in.) across. Compound leaves with 3 large deeply cut leaflets, each leaflet with deep irregular lobes and coarse, sharp teeth on all margins; their petioles (stalk that joins the leaf to the stem) often have sharp-pointed bumps similar to those on the flowering stems; leaves on the flowering stem are of similar shape but smaller, the upper ones often not divided but just deeply 3-lobed.
Flowers & Fruit
White or rarely pinkish in colour, appear in mid-june and are clustered in an umbel shaped head and can measure up to 120cm (4ft) across. Umbels are an umbrella shaped cluster of short-stalked flowers, typical of the carrot family. Each compound umbel consist of many (approximately 30 to 50) branches, each branch ending in a simple umbel with approximately 30 to 40 flowers
Caution
It has been implicated as a cause of severe dermatitis in a few susceptible individuals.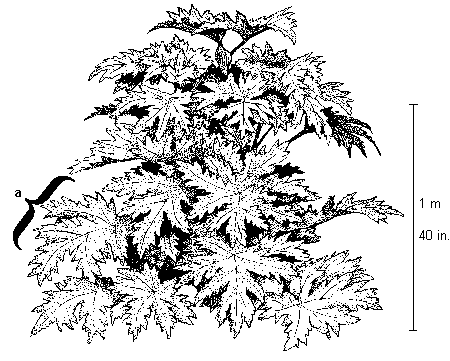 Learn more
More information on the Giant Hogweed can be found at the links below: