Community Safety & Well-Being
Thank you for visiting Haliburton County's Community Safety and Well-Being page!

For information on the CSWB Youth Art Exhibition currently accepting calls for entry from Haliburton County residents aged 12 to 24, visit the County's news page, the Rails End Gallery entry page, or the County's Youth Engagement survey page.


---

The Haliburton County Community Safety & Well-Being Plan was endorsed by county council and its four partner municipality councils in early 2022. The CSWB Plan was created over two years in collaboration between community organizations, partners and service providers, residents, as well as police services, and local government and county leadership.
Community members came together to develop a Plan that provides a roadmap for how partners can work together across different sectors toward a shared vision to make Haliburton County a safer, more inclusive, and connected community for all its residents.
The County of Haliburton was delegated authority for the planning and implementation of the CSWB Plan for the townships of Algonquin Highlands and Minden Hills, and the municipalities of Dysart et al and Highlands East, but the success of the plan itself is not linked to any one person, organization or sector - there is something everyone can do.
About the Community Safety & Well-Being Plan
What is Community Safety and Well-Being?
The Ministry of the Solicitor General defines community safety and well-being as:
"The ideal state of sustainable community where everyone feels safe, has a sense of belonging, opportunities to participate, and where individuals and families are able to meet the needs of their education, health care, food, housing, income, and social and cultural expression."
Through this definition, community safety and well-being planning means much more than just ensuring that the basic needs of our communities are met. It also encompasses the broader context of well-being, accounting for social determinants and indicators, alongside the many complex and multifaceted elements of our social and emotional well-being.
Why do we have a CSWB Plan?
New legislative requirements under the Safer Ontario Act, 2018 mandated that each municipality in the province prepare and adopt a CSWB Plan in partnership with a multi-sectoral advisory committee. In Summer 2020, the County of Haliburton began developing our local Plan on behalf of each of the local municipalities.
CSWB Planning supports a collaborative approach to addressing local priorities through the implementation of programs/strategies in four planning areas, including social development, prevention, risk intervention and incident response. By engaging in the CSWB planning process, communities will be able to save lives and prevent crime, victimization and suicide.
This marks a shift in focus from a reactive, responsive-based approach, to a more proactive, holistic approach to community safety and helps ensure those in need of help receive the right response, at the right time, and by the right service provider. It will also help to improve interactions between police and vulnerable residents by enhancing frontline responses to those in crisis.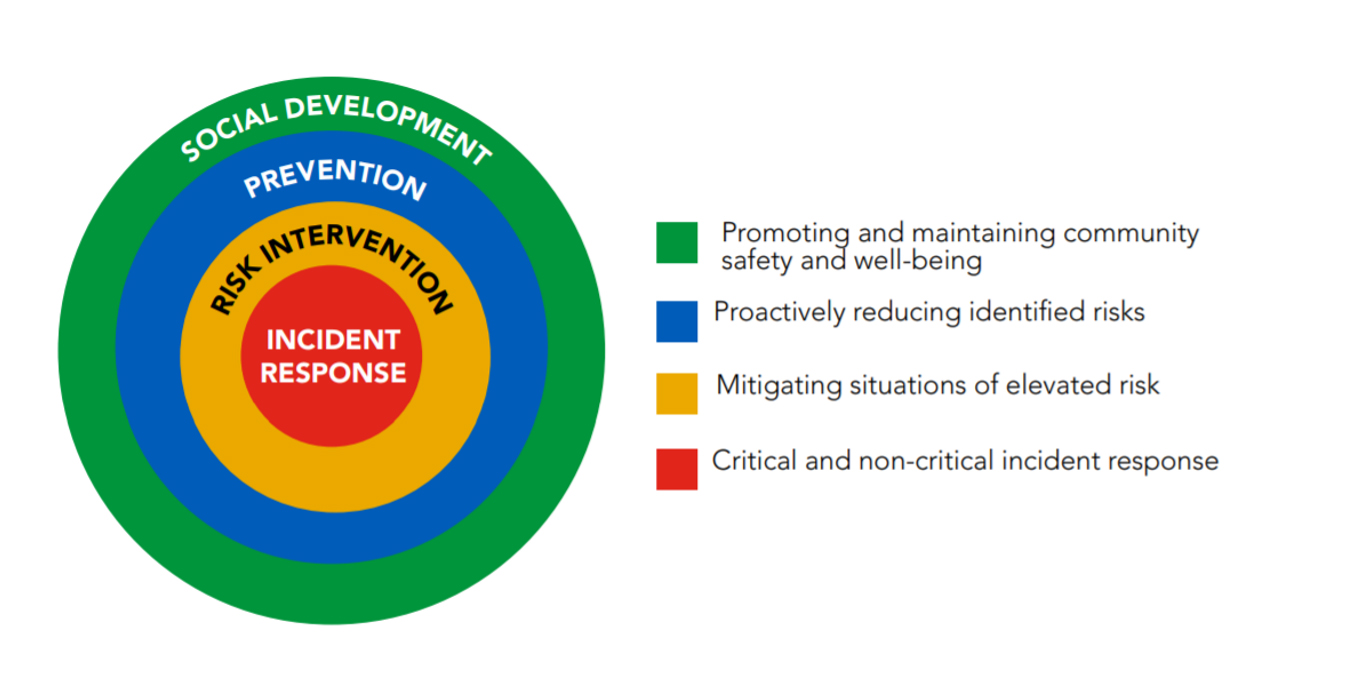 Haliburton County's CSWB Plan aims to address the real, everyday needs of our community by improving alignment across our key service providers, integrating data collection and information to better understand and measure progress, supporting vulnerable communities as they access information and services, and ensuring that we are continuously engaging with our community and interested parties to align this plan, with the real everyday needs of our community members.
What are the benefits of a CSWB Plan?
Benefits of planning are wide-ranging and impact individuals, the broader community, and participating partner agencies and organizations.
A few key benefits include:
enhanced communication and collaboration among sectors, agencies and organizations;
stronger families and improved opportunities for healthy child development;
healthier, more productive individuals who positively contribute to the community;
increased understanding of - and focus on - priority risks, vulnerable groups and neighbourhoods;
transformation of service delivery, including realignment of resources and responsibilities to better respond to priority risks and needs;
increased engagement of community groups, residents and the private sector in local initiatives and networks;
enhanced feelings of safety and being cared for, creating an environment that will encourage newcomers to the community;
increased awareness, coordination of and access to services for community members and vulnerable groups;
more effective, seamless service delivery for individuals with complex needs;
new opportunities to share multi-sectoral data and evidence to better understand the community through identifying trends, gaps, priorities and successes; and
reduced investment in and reliance on incident response.
Have more questions? Read a Frequently Asked Questions document, or contact us.
Our Plan Priorities and Goals
The ultimate goal of this type of community safety and well-being planning is to achieve sustainable communities where everyone is safe, has a sense of belonging, opportunities to participate, and where individuals and families are able to meet their needs for education, health care, food, housing, income, and social and cultural expression. The success of society is linked to the well-being of each and every individual.
Four key evidence-based priority areas that align with the needs of our community and their service providers are identified in the Haliburton County CSWB Plan: Housing and Homelessness; Poverty and Employment; Mental Health, Substance Use and Addiction, and Healthcare and System Access.

Additionally, each priority area is underpinned by critical enablers - both public and active transportation; streamlined system access/navigation; continuous stakeholder and community engagement; data collection and sharing - as well as risk factors - environment and climate change; geographic distribution; population/demographic-based challenges and public health threats.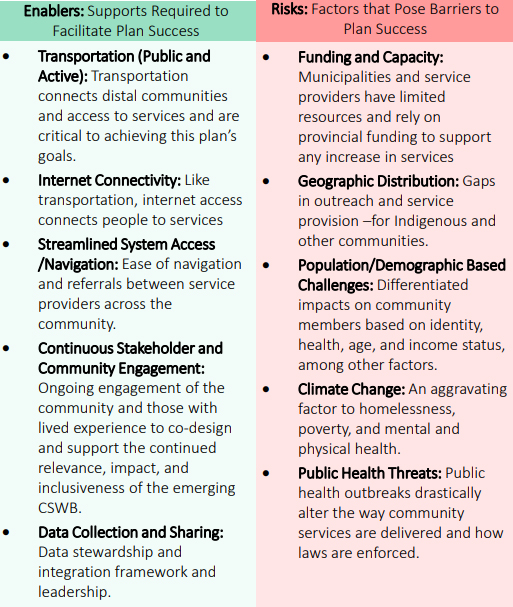 The plan also outlines 12 goals and 25 strategies intended to address some of the community's most critical safety and well-being challenges, which are designed to enhance what already exists in the community and to innovate where key gaps linger.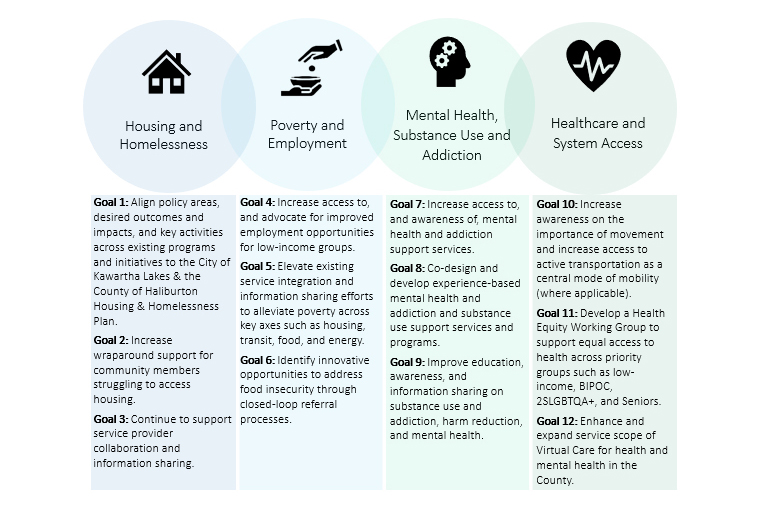 Housing & Homelessness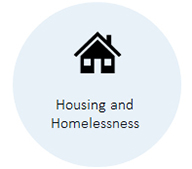 Goal 1: Align policy areas, desired outcomes and impacts, and key activities across existing programs and initiatives to the City of Kawartha Lakes & the County of Haliburton Housing & Homelessness Plan
Goal 2: Increase wraparound support for community members struggling to access housing
Goal 3: Continue to support service provider collaboration and information sharing
Poverty & Employment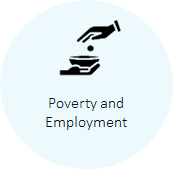 Goal 4: Increase access to, and advocate for, improved employment opportunities for low-income groups
Goal 5: Elevate existing service integration and information sharing efforts to alleviate poverty across key axes such as housing, transit, food, and energy
Goal 6: Identify innovative opportunities to address food insecurity through closed-loop referral processes
Mental Health, Substance Use and Addiction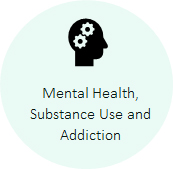 Goal 7: Increase access to, and awareness of, mental health and addiction support services
Goal 8: Co-design and develop experience-based mental health and addiction and substance use support services and programs
Goal 9: Improve education, awareness, and information sharing on substance use and addiction, harm reduction, and mental health
Healthcare and System Access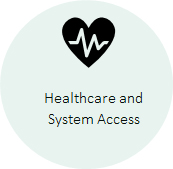 Goal 10: Increase awareness on the importance of movement and increase access to active transportation as a central mode of mobility (where applicable)
Goal 11: Develop a Health Equity Working Group to support equal access to health across priority groups such as low-income, BIPOC, 2SLGBTQA+ and Seniors
Goal 12: Enhance and expand service scope of Virtual Care for health and mental health in the County
We encourage all to get involved in helping to implement the CSWB Plan. If you or your organization is interested in supporting one or more of the Plan's goals, please contact our CSWBP Coordinator at cswb@haliburtoncounty.ca.
Read Haliburton County's CSWB Plan
Haliburton County's Community Safety and Well-Being Plan is currently undergoing accessibility remediation.
For more information, please email the CSWBP Coordinator.
[Last update: May 9, 2023]
Implementing the CSWB Plan
As a living document, the Plan acts as a guide for key interested parties to come together, and address community safety and well-being needs in innovative and impactful ways. It is intended to be driven by key partners, interested parties, service providers, and local government alike, and to continuously reflect the changing needs of our community members as progress is made.
Effective implementation and continuation will be based on the following key principles: Good Governance; Data Stewardship and Continued Consultation and Engagement.
Together these principles will help support innovative solutions to community challenges, amplify what already exists in the County and leverage the municipal role in driving our desired CSWB outcomes.
An Advisory Table who will assist the County in developing concrete action plans to address the issues outlined in our plan was originally appointed by county council in June, 2021. The multi-sectoral advisory committee is comprised of service provider representatives and other leaders in the community, and was engaged throughout the Plan development process.
The Advisory Table provided invaluable input and direction on the identification of key priority areas, and what they mean for community members. They are also tasked with driving the continuation of this plan into the future. Representatives include leaders across key issue areas and sectors such as : health and mental health; crisis response and intervention; education; youth engagement; poverty reduction and employment.
Advisory Table Members
Councillor Bob Carter
Marg Cox
Andrew Hodson
Jennifer Mills
Janine Mitchell
Carolyn Plummer
Mike Rutter
Liane Spong-Hooyenga
Pam Stuckless
Additional Resources
CSWB Events and Activities
To view past or upcoming events, visit our CSWB Events and Activities page.
Get Involved
Contact us with:

Any non-emergency emerging safety and well-being issues you see or experience in Haliburton County (in an emergency, please call 9-1-1)
Ideas and suggestions on how to improve local safety and well-being
Information about activities, events or projects related to safety and well-being that we can share with residents
Requests for further information about Haliburton County's CSWB Plan or services available in Haliburton County



Connect with the County of Haliburton's Facebook and Twitter pages to stay updated about what CSWB looks like in the county


Subscribe to this page as it will be updated with further information and resources to connect you with the help you need, or opportunities to get involved in your community


Are you between the ages of 12 to 24, and living in Haliburton County? Tell us your thoughts through our CSWB Youth Engagement survey


Contact Us
Community Safety & Well-Being Plan Coordinator
County of Haliburton
11 Newcastle Street, P.O. Box 399
Minden, Ontario, K0M 2K0

Phone: 705-286-1333 x. 256
Fax: 705-286-4829
Email us: cswb@haliburtoncounty.ca