The County of Haliburton and local municipalities are committed to climate action. This includes ways we will reduce our impact on climate change, and steps we will take to prepare for its adverse effects. The County has initiated a climate change planning process consisting of three phases: corporate climate change mitigation, corporate climate change adaptation and community mitigation and adaptation.
Key Terms
Mitigation
Efforts to reduce or prevent emission of greenhouse gases. Mitigation can mean using new technologies and renewable energies, making older equipment more energy efficient, or changing management practices or consumer behavior.
Adaptation
The ability to adjust to changing conditions by natural systems or society. Anticipating the adverse effects of climate change and taking appropriate action to prevent or reduce the damage they can cause, or taking advantage of opportunities that may arise. It has been shown that well planned, early adaptation action saves money and lives later.
Vision
To be leaders, who recognize the resources and challenges;
To create strategies to cope with energy and climate uncertainty;
To ensure services and infrastructure are protected and maintained;
To combine our shared memory, history and experiences;
To accept municipal responsibility to our communities;
To set greenhouse gas reduction targets;
And to implement a collaborative municipal mitigation plan.
Corporate Climate Change Mitigation Plan
The County's Corporate Climate Change Mitigation Plan outlines objectives to reduce greenhouse gas emissions resulting from municipal operations and services.
Goals
Improve energy efficiency and transition to low carbon and renewable sources of energy in municipal facilities
Reduce fuel consumption and transition to low carbon vehicles and fuels in municipal fleet
Reduce and divert organic waste from municipal landfills
Integrate climate change considerations across municipal programs, policies and plans
Documents (PDF)
Corporate Climate Change Adaptation Plan
The County is in the process of developing a plan to outline how the County and local municipalities will adapt municipal assets, operations and services to prepare for the impacts of climate change.
Community Climate Action Plan
The County will work closely with the community to develop climate mitigation and adaptation strategies that fit the needs of our community.
Climate Initiatives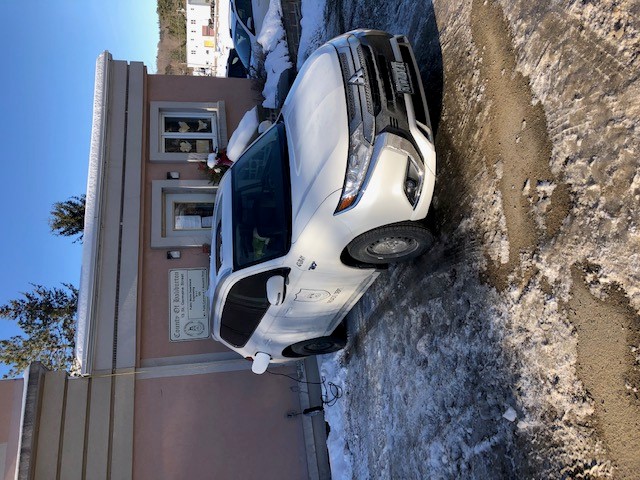 In December 2020, the County of Haliburton purchased a 2020 Mitsubishi Outlander Plug-In Hybrid Electric Vehicle (PHEV) to replace a pick-up truck in the Roads Department.